Hearthstone: Some Breathtaking Artworks Behind Cards
Happy New Year! Hearthstone has been in closed beta for over four months, more and more players could enjoy the game with their friends and family. Both of the video and audio are vivid and fantasy. However do you know the details of artwork behind the cards and their creators? I believe that most of you guys haven't seen the other parts beyond cards. In this article I will unveil the missing part in cards, if you have any sparking ideas or comments, please leave them in comments below. No more waiting!
First one: Razorfen Hunter
To our surprise, a beast - 1/1 Boar occupies the most part in the artwork instead of the female hunter – a 2/3 minion. And in this artwork, we could take a close look at this female hunter who is driving her beast running in forests. Maybe they are running after their prey. It is a decent one for two cards. While the Razorfen Hunter itself isn't a beast, the summoned Boar triggers cards in the Hunter Deck, like the Starving Buzzard. This makes this card a great addition to a beast heavy deck.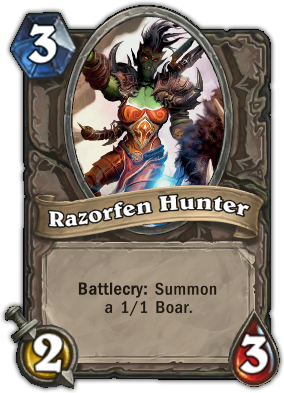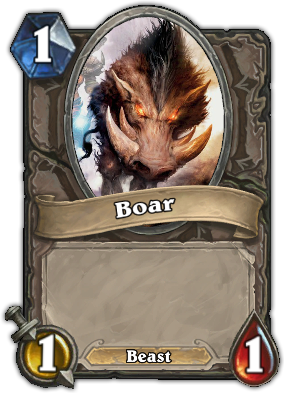 Type: Minion
Rarity: Common
Set: Basic
Faction: Horde
Crafting Cost: 40 / 400 (Golden)
Arcane Dust Gained: 5 / 50 (Golden)
Artist: Clint Langley

Related Articles / Hearthstone Hub / More Games Here
Finally! I Got All the Golden Neutral Legendaries
Ysera and Dream Cards - Something You Must Know!